Am I too young to do a glowing write-up on a senior living facility? It depends on your point of view, I suppose. I might not be old enough to check into a place like Revel, and I'm a bit miffed about that. You know the whole enjoy your youth while you can, and all that? Yeah, after perusing Revel, I'm not so sure I buy into that.
The Editorial Board members vetted the spot during Olympia's Chefs on Tour, which was a bit of a bumbling event. Five residences; five meals; one clear winner: Revel, the bona fide retirement home. This is not to knock some of the finer foods provided elsewhere on the tour — Bitter Sweet Chocolates and Sofie's Scoops Gelato delivered the goods — and there were some lovely abodes out there. Revel, though, brought it, and more.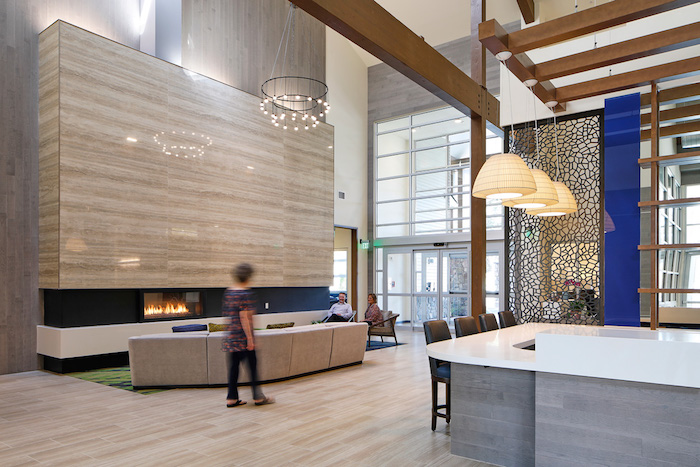 I'm ready to hit this place up. Fist-bump with Phyllis, sample Jeremiah's homemade tapioca, have an afternoon snooze while catching up on Murder She Wrote. Revel is set up for the twilight years I deserve, and my biggest fear is that by the time I'm old enough to be allowed in, I'll be too old to enjoy the amenities.
Accusing a retirement home of ageism might be somewhat ironic, but I'm willing to do just that. That, or get a fake I.D.
The movie room, the gym, the spa? Residents only. The restaurant with a suitably early happy hour, which can only be described as high-end? Swanky enough for us to inquire if outsiders could dine there, just to be smacked down and rejected.
There are sensibly laid out apartments with tasteful finishes, flanked by kitchens you'd expect to find in a waterfront property, albeit with no water or front. Just Lacey, though on the plus side, you will never need to leave the premise, because my god, Revel's got it all. I even heard rumors of a billiards room.
Alas, it is not meant to be. Not yet. I will say, though: Never before have I set my sights so firmly on being old. There's a brave new world out there, and I, for one, am ready for it.
Picture taken from Revel's website because I was too blinded by the greatness to remember to take one myself.